New Product Announcement:  Magline's CooLift Pallet Mover
As one of the top Magliner dealers in North America, Evans Material Solutions is excited to give you the first look at our partner's latest product news!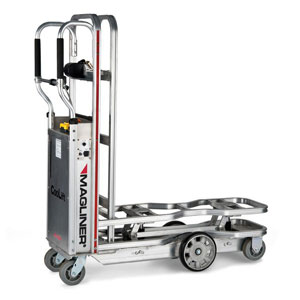 Magline's new CooLift Pallet Mover helps direct store delivery drivers and store employees transport more product in less time, safely and efficiently. The new system allows delivery workers to be more productive, work safer, and stay on the job longer.
The CooLift Pallet Mover transports up to 4 times the delivery capacity of a two-wheeled hand truck, resulting in fewer trips and less time between truck and storefront.
The delivery system works with all existing CooLift pallet lengths, and the basic pallet mover can lift up to 750 lbs.  The CooLift's handle-actuated latch allows users to raise and releases the deck quickly and safely, reducing strain.
A motorized version, the CooLift with Propulsion Assist, can quietly lift and lower up to 1500 lbs. and assist with movement at up to 2 mph.  Its battery is designed to last all day in the field, up to 150 lifts and 50 motor-assisted trips of 100 feet.
The pallet mover is part of the CooLift system, which eliminates driver picking at the store site, can reduce workers' compensation claims by up to 32%.
"The biggest achievement is getting the product from the warehouse to the cooler without having to touch a single case."

–Director of Fleet Operations, DSD company
Magline's new CooLift system is superior to 2-wheeled hand trucks and side-bay delivery vehicles in nearly every way.  To see how the CooLift system saves time, effort, and increases revenue opportunities, watch this side-by-side comparison video.
Less time spent touching products results in increased delivery efficiency, improved driver retention and longevity, and lower fleet operating costs
---
The CooLift is available immediately from Evans Material Solutions.  To order yours today or more information, give Evans a call at 407.850.3131.
Additional info and a spec sheet for the new CooLift system can be found here. 
Evans carries a full line of material handling solutions products and systems, including storage and racking systems, caster repair, and pressed wheel sales.  We proudly design, build, install, and service everything we provide.
What can we build together today?