Evans is proud to recommend the Magliner LiftPlus, a revolutionary lifting platform with an electric screw drive lift system and several quick-change accessories.  Useful for stacking, lifting, and positioning items, the LiftPlus was specifically designed to help reduce job-related injuries.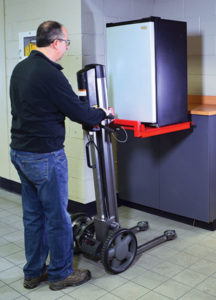 Available in various speeds, heights, and with lifting capacities up to 350 lbs, the Magliner LiftPlus can access tight, cramped areas where a fork truck might not be practical.  Its small footprint allows it to fit thru a standard 28" doorway.
In many cases it can eliminate the need for a conventional fork truck altogether, without the need for a license or required certification.
The advanced electric screw drive lift system reduces maintenance requirements by using no cables, chains, gas, or hydraulic fluid.
Accessories allow the same platform to perform multiple, useful tasks.  The LiftPlus is the only product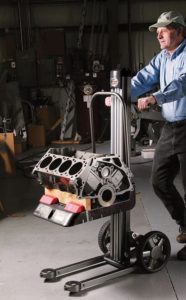 available on the market with customized accessories to suit specific needs.  Every LiftPlus accessory is interchangeable, and can be switched out in seconds.
---
Quick-change accessories include
Steel platforms
Bent forks
Straight forks
Arbors, for rolled material
V-tray, to accommodate cylindrical objects such as large beverage containers
Workbench—providing a mobile, variable-height work surface that includes a built-in vise to secure your work
Custom attachments for your specific application are available.  Call Evans today to discuss your specific project.
Improve the workflow in a warehouse or manufacturing environment, making it safer and faster.
---
We'd love to hear about your project.  Call Evans today at 407.850.3131.