Greater Orlando and surrounding areas now benefit from on-demand, on-site caster wheel repair
Orlando, Florida – October 24, 2016 – (Newswire.com)
Evans Material Solutions today unveiled a new mobile caster wheel repair offering, designed to service businesses in Metro Orlando and the surrounding areas. Previously available only from a single Central Florida location, comprehensive caster repair is now offered as an on-site, on-demand service at any business location.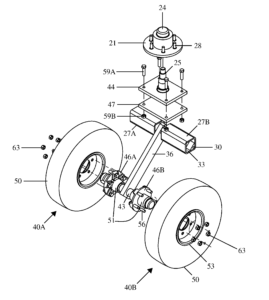 A recent field test of its mobile facility resulted in over 200 caster wheels rapidly repaired for a single customer. While the mobile service is new, caster repair is a longtime core offering. Since opening its doors in 1981, Evans has repaired luggage racks, hospital furniture casters, medical equipment wheels, trolleys, dollies and beverage carts for a variety of customers, including all of Orlando's major theme parks.
As the premier stocking distributor for Magliner products in central Florida, Evans also repairs Magliner hand trucks and other products in the field.
The new offering includes ad hoc service calls as well as monthly contracts for select customers. In addition to repair, service includes design and optimization, installation, and sales of a wide variety of parts and accessories.
Requests for single service calls are honored on a two-hour onsite minimum and are coordinated through the Evans corporate headquarters on Satellite Boulevard. Evans repairs mini duty casters, and light-, medium- and heavy-duty caster wheels made from a variety of materials, including polyurethane, nylon, rubber, and plastic.
Local businesses that benefit the most from the new service include hospitals, restaurants, colleges and universities, food processing centers, theme parks, convention resorts, and distribution centers.
More than ever, businesses in the Orlando area need to find ways to improve the quality and speed of their services, and we're seeing a dramatic increase in demand for efficient material handling, particularly with companies that move materials using caster wheels and pressed wheels," said Peter Abram, President and CEO of Evans Material Solutions. "We are tremendously pleased to offer a mobile service tailored specifically to caster wheel repair, and we are grateful for the opportunity to support the rapid growth of Orlando businesses.
A woman-owned, minority owned business, Evans operates from multiple locations in the greater Orlando area, providing material handling equipment, industrial storage and shelving solutions, custom millwork, and design and installation services. Evans is the exclusive provider of garment racking solutions for the largest theme park in North America.
Caster wheel repair services from Evans are currently available. Click here for additional information, or call 407.850.3131.
About Evans
Evans Material Solutions provides powered and non-powered material handling equipment, industrial storage and shelving solutions, caster repair, and custom millwork to businesses of all sizes. A woman-owned and minority-owned business, Evans serves North American customers from its headquarters in Orlando, Florida.
Press Contact
Ben English
Vice President, Marketing and Communications
ben.english@evansmaterialsolutions.com
t: 407.850.3131